For any Original Equipment Manufacturer (OEM) and Operations & Maintenance (O&Ms) organization, spare parts management and usage optimization play crucial roles in revenue generation and profitability. Inappropriate spare parts management can result in asset availability gaps and customer dissatisfaction. It is important to maintain the balance of the timely availability of spares as it affects the capital blocked in the overall spare parts inventory. This imbalance will affect service delivery and maintenance schedules and also affect customer satisfaction.
System Architecture
IoT-based machine health monitoring system
Trinetra tSense offers an IoT-based machine health monitoring system to effectively manage and monitor spare parts lifespan, for preventive maintenance and for on-site service delivery. This IoT solution helps maintenance and service managers to improve machine uptime and productivity, starting from forecasting, reordering, and procurement of spare parts with the help of IoT data and analytics. Using the capabilities of IoT technology, our solution provides you an intuitive user interface to optimize spare parts management, to reduce costs and machine downtime, which enhances customer satisfaction.
Our solution is designed specifically for those who are looking at streamlining their machine spare parts management. The data collected from machines, equipment or vehicles, can be stored and analysed to facilitate spare parts forecasting and better inventory control for preventive maintenance and other purposes.
By implementing better spare parts management practices, Maintenance and Service Managers can excel in their core tasks, leading to improved machine performance, utilization, uptime, preventive maintenance, efficient scheduling, reduced service turnaround times (TATs) and successful contract agreements with customers through Annual Maintenance Contracts (AMCs).
Take advantage of our IoT-driven solution and transform your equipment's spare parts monitoring and management to increase efficiency, productivity, reliability and customer satisfaction.
Features & Benefits:
Precise Forecasting: Our IoT-based system uses historical data and advanced analytics to forecast demand, allowing OEMs to plan their inventory levels better and avoid stock-outs or overstocking.
Real-Time Inventory Oversight: Our IoT solution allows OEMs to track inventory levels in real-time, automate reordering, and optimize inventory levels to reduce costs and overheads.
Predictive maintenance: This IoT platform uses machine learning algorithms to predict when spare parts need to be replaced or stocked, reducing unwanted downtime and avoiding costly breakdowns.
Real-Time Monitoring: Our system uses IoT technology to provide real-time asset/machine monitoring for the spare parts inventory management at various locations. This means you can always keep track of the stock levels and reorder or indent when necessary, reducing the risk of running out of critical parts at a critical point of time..
Improved Efficiency: The application can automate the entire spare parts management process, saving you time and increasing efficiency. This includes automated spare parts reordering, inventory tracking and more.
Reduced Costs: By service parts optimisation, efficient inventory management and reducing downtime, our system can help you save money on spare parts costs and maintenance expenses.
Data-driven Analytics: Our system provides advanced analytics to help you make data-driven decisions. This includes detailed reports on inventory levels, usage patterns, and helps in spare parts lifecycle management.
Distribution: Our software solution supports the distribution process, thus enabling OEMs to efficiently manage order fulfilment, reordering and monitor shipments and delivery times. Service teams can optimise spare parts usage with this tool.
Improved customer satisfaction: Our Industrial IoT-based software enables OEMs to provide faster and more accurate service to customers, thereby improving customer satisfaction and loyalty.
Minimized Unplanned Downtime: Production performance is impeded by unplanned downtime of machines and causes losses in several areas. Our IoT software with data-driven analytics helps in preventive and predictive maintenance to reduce unprecedented machine downtime and improve uptime for better productivity.
.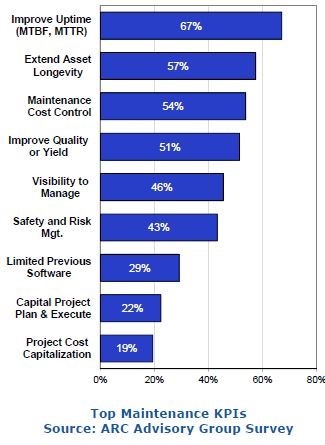 Recently, in a survey conducted by ARC Advisory Group, it was found that Enterprise Asset Management(EAM) software improved machine uptime.
---
User Benefits
Original Equipment Manufacturers (OEMs)
Timely Availability of Spare Parts / Enhanced Machine Uptime and Productivity / Cost Reduction / Improved Maintenance Scheduling / Better Customer Satisfaction / Streamlined Operations
Supply Chain & Inventory Management for Business Owners
Cost Reduction / Improved Cash Flow / Enhanced Customer Satisfaction / Increased Operational Efficiency / Better Decision Making / Supply Chain Resilience / Competitive Advantage
Servicing Companies engaged in repair & maintenance (O&Ms)
Improved Asset Uptime / Enhanced Equipment Performance / Reduced Maintenance Costs / Efficient Maintenance Scheduling / Increased Productivity / Improved Customer Satisfaction
---
Industries we serve

Automotive Industry

Consumer Durables

Equipment Manufacturer

Machinery Manufacturers
---
Opt for our innovative IoT-based solution today and start optimizing your spare parts management. Contact us to learn more about how Trinetra TSense can help your business succeed.
---
Get in touch with us